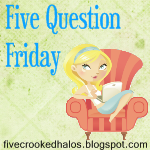 It's Friday, the day of the week that makes my heart smile, EVERYTIME :) Let's see, not to much to brag about this week. It's been a pretty basic week, still tiring which is completely normal. I'm looking forward to the weekend for the sole reason of. . . . . I have absolutely NOTHING to do!
Okie Doke, like I said, not much to brag about this week so I will share a little "Friday Flashback" with you.
This week, I scanned in my own baby pictures in hopes that I could prove that Alex was in fact, MY child. The best I could do are the eyelashes. Dang it. I swear to you, he is mine!
This is Alex, 2011
This is me, 1984ish
What do you think? Does he look anything like me? All I ever hear is how much he looks like his daddy!
Here ya go, more useless facts about yours truly :)
1.
Do you have a go to song that always puts you in a good mood?
Not a specific song, but any song that is easy to sing a long too, singing at the top of my lungs always puts me in a great mood :)
2. A
re you a real Christmas tree kinda person or do you go with a real fake one?
Growing up we always had an artificial tree, of course we had 12 of them in the house so it really made sense they were fake. But now with my husband and now new family, we go for the real thing. I think it's a great winter tradition to go out with your family and cut down your Christmas tree.
3. What are you thankful for?
4.
Which fashion fad from the past do you wish you could wear today?
Pajama pants in public :)
5.
Do you wait until the "low fuel" light comes on before you fill up the gas tank?
Oh no, did that once and ended up pushing my car to the thankfully nearby gas station, about 1/4 tank is as low as I let it go