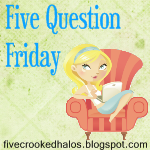 1. Do you close the bathroom door when you are home alone?
Yep, does that make me weird? Something about the dog watching me pee freaks me out a little.

2. You have to walk around with a word on your forehead. That word describes you. One word. What is it?
Not really a word, but I am going to go with "?", My mood is constantly changing and sometimes I might be lost, or confused, happy, thrilled, excited. "?" explains the variety in me.

3. What store do you refuse to shop at and why?
Walmart, even though I find myself there on occasion. I am not a Walmart fan at all, I feel all wierd (not in a good way) when I leave that store, no thank you.
4. If you participated in arranged marriages for your child(ren), who would you choose for your child(ren)?
My son would marry the one that makes him happy. The one who shares in his beliefs. The one who knows him inside and out and will always keep him in her heart. My son will marry a girl that loves him for who he is and not for who she wants him to be.

5. If you could pick how and when you would die, would you?
Oh absolutely not! Imagine knowing that and then trying to live your life honestly? Is that even a possibility? You would always have that in the back of your mind and wouldn't live out your life with full confidence. I think you would always be distracted. I think you should live like your dying, always, but do it with all your heart and soul.